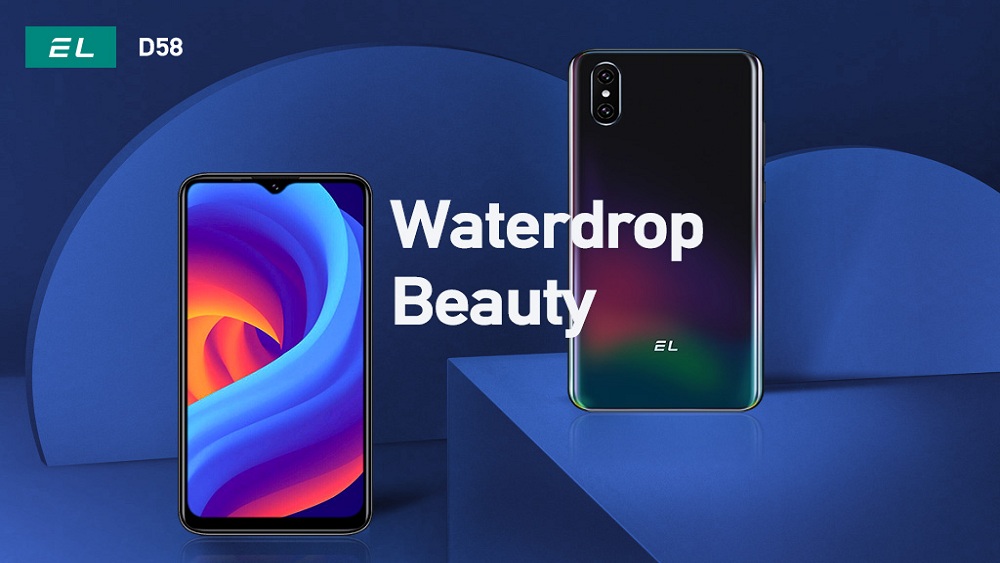 In the past two years, EL mobile phones have been side by side with fashion. In particular, EL mobile phones have been pursuing youth and creativity in their products and positioning. Their series of mobile phones are spread all over the world. Recently, the drop-screen products released by EL mobile phones have performed well and have always been quite satisfactory in terms of price and shape. EL phone's EL D58 water drop screen mobile phone is the main cost-effective, long battery life.
Design
First look at the screen, EL D58 is equipped with the mainstream water drop screen of EL in recent years, the front camera is cut from the water droplets that are about to fall from the lotus leaf, which is natural and bright. Screen size 6.22-inch screen with a resolution of 1520×720, both vividness and clarity, allowing the advantages of the full screen to be magnified again. In the game and viewing process, you can get a broader view, and also display more UI content, resulting in better immersion.
Take a photo
Although the positioning of the EL D58 is a low-end machine, the EL D58 has always been focused on the camera function. The EL D58 uses a very hot lens. I believe everyone is familiar with this lens, 5 megapixels, auto focus. , f / 2.0 large aperture, prop up the camera night shot on both sides of the sky. The front camera is equipped with a 5 million HD camera, but the self-timer is more natural and clear.
Hardware aspect
Built with a quad-core processor, the EL D58 delivers high performance while consuming less energy and less heat. Memory is standard 2GB, storage space is standard 16GB, support is formulated. On the battery side, the EL D58 has a built-in 3000mAh high-capacity battery to provide long-lasting battery life. In the endurance test, thanks to the low-power frequency of the processor, whether the game is watching video online, the battery is very durable, standby Not to mention the phone.
As far as the current market is concerned, the performance of the EL D58 is excellent, so that the low-end machine can also have a good experience. The advantages of cost performance and long battery life make the heavy mobile phone users praise. If you choose the water drop screen smart phone, EL D58 is the reference answer of your many choices.